News
Purple Reign: Eagles sweep SWBL All-Sports Titles
Bellbrook (East Division) and Eaton (West Division) have claimed the 2023 SWBL All-Sports titles. The all-sports title is Bellbrook's seventh in a row and 26th in 29 years. The Golden Eagles have won 28 all-sports titles overall. Bellbrook was fueled by first place finishes in football (third in a row), girls golf, girls tennis, girls basketball, volleyball and baseball. BHS finished second in eight sports. Oakwood finished second in the East Division with 43.5 points to Bellbrook's 38.5 Eaton, which defended its 2022 All-Sports trophy, has now won three total. The Eagles were powered by first place finishes in boys cross country, girls cross country, volleyball, boys soccer, boys swimming, girls swimming and baseball. Eaton was second in five sports. Valley View and Brookville tied for second in the West with 51 points to Eaton's 41.5
SWBL 2022-2023 All-Ohio & State Qualifiers
Below is a look at those athletes and teams that earned All-Ohio honors and/or qualified for the state tournament in the 2022-2023 school year.
 
SWBL State Qualifiers 2022-2023
 


Football
Valley View, D-V State Semifinals
 


Girls Soccer
Waynesville, D-II State Runner-Up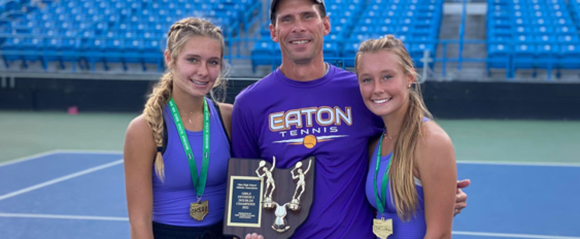 Girls Tennis
Macy Hitchcock, Eaton, D-II State Champion (doubles)
Mallory Hitchcock, Eaton, D-II State Champion (doubles)
 
Boys Golf
CJ Scohy, Bellbrook, jr., D-II
 
Boys Cross Country
Oakwood, D-II (9th): Jacob Sayer, Sean Michael, Charlie Kash, Rohan Haack, Matthew Walton, Mannie Williams and Nico Ferra
Mikula Ford, Bellbrook, sr., D-I
Andrew Wilcox, Monroe, jr., D-I 
Jonas King, Waynesville, D-II
Kolby Hamilton, Eaton, xx, D-II
Tanner Davis, Eaton, xx, D-II
Aiden Clendenin, Valley View, xx, D-II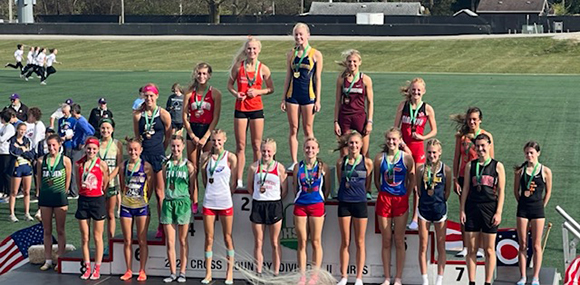 Girls Cross Country
Waynesville, D-II (8th): Samantha Erbach (State Runner-Up), Kendall Erbach, Kyla Harvey, Maria Gill, Olivia Walters, Zedie Clark and Emma Greely
Oakwood, D-II (11th): Bella Butler (State Champion), Delaney Cahill, Gabriella Kimbrough, Sarah Redden, Neave Kynch, Floey Biteau and Katy Butler
 
Wrestling 
Zeran Brady (150), Valley View, D-III
Tucker Campbell (132), Franklin, D-II
Levi Collins (150), Waynesville, D-III
Junior Creager (144), Franklin, D-II
Luke Dolan (150), Brookville, D-III (5th)
Mark Ellis (138), Waynesville, D-III
Vincent Hummel (165), Bellbrook, D-II
Hayden Jones (106), Brookville, D-III
Noah Rutherford (285), Carlisle, D-III
Carter Stack (215), Oakwood, D-II
Bronson Stacy (215), Brookville, D-III (7th)
Landen Weiss (157), Bellbrook, D-II
Matthew Wheeler (126), Madison, D-III
Evan Wilcox (132), Valley View, D-III (8th)
 
Girls Swimming & Diving
Lily Epley, Oakwood, Girls Swim 50 Free, D-II
Lily Epley, Oakwood, Girls Swim 100 Free, D-II
Callie Hayes, Oakwood, Girls Swim 100 Back, D-II
Callie Hayes, Oakwood, Girls Swim 100 Fly, D-II
Teagen Melton, Bellbrook, Girls Swim 50 Free, D-I
Teagen Melton, Bellbrook, Girls Swim 100 Free, D-I
Mia Nazarenus, Bellbrook, Girls Dive, D-I 
Anna Neff, Oakwood, Girls Dive, D-II
Oakwood, Girls Swim 400 Free, D-II: C. Hayes, M. Prizler, P. Simon, L. Epley (7th)
Matilda Prizler, Oakwood, Girls Swim 200 Free, D-II
Matilda Prizler, Oakwood, Girls Swim 500 Free, D-II
 
Boys Swimming & Diving
Truman Brun, Oakwood, Boys Swim 100 Free, D-II
Truman Brun, Oakwood, Boys Swim 100 Back, D-II (6th)
Jameson Cooke, Valley View, Boys Swim 100 Butter, D-II (5th) 
Jameson Cooke, Valley View, Boys Swim 200 IM, D-II
Peter Guthrie, Bellbrook, Boys Swim 100 Breast, D-II
Oakwood, Boys Swim 200 Medley, D-II: T. Brun, C. Beck, N. Pennington, T. Prizler (6th)
Oakwood, Boys Swim 400 Free, D-II: T. Brun, C. Beck, N. Pennington, T. Prizler (7th)
Austin Peace, Eaton, Boys Swim 100 Breast, D-II
Austin Peace, Eaton, Boys Swim 100 Butter, D-II
Nick Pennington, Oakwood, Boys Dive, D-II (6th)
Nate Pennington, Oakwood, Boys Swim 200 IM, D-II 
Nate Pennington, Oakwood, Boys Swim 100 Breast, D-II
Tristan Prizler, Oakwood, Boys Swim 200 IM, D-II (4th)  
Tristan Prizler, Oakwood, Boys Swim 500 Free, D-II (3rd)
Jude Schauer, Oakwood Boys Dive, D-II (8th) 
 
Boys Track & Field
Brookville 400 relay, D-II: Kory Davis, Alex Kidwell, Tim Davis and Coy Hyre (8th)
Brookville 800 relay, D-II: Walt Adams, Keegan Mehr, Kory Davis and Tim Davis 
Kory Davis, Brookville, jr., 110 hurdles, D-II State Runner-Up
Coy Hyre, Brookville, so., 100, D-II
Coy Hyre, Brookville, so., 200, D-II
Cary Phillipson, Bellbrook, sr., pole vault, D-I (8th) 
Liam Acevedo, Franklin, jr., 200, D-II (6th) 
Liam Acevedo, Franklin, jr., 100, D-II (8th) 
Valley View, 1600 relay, D-II: Anthony Valenti, Micah Valenti, Brayden Lynch and Aiden Clendenin
Waynesville, 400 relay, D-II: Garrett Lundy, Wade Von Handorf, Trent Davis and Alex Amburgy
Waynesville, 800 relay, D-II: Garrett Lundy, Wade Von Handorf, Trent Davis and Alex Amburgy
 


Girls Track & Field
Oakwood, D-II, 6th
Waynesville, D-II, 7th
Bella Butler, Oakwood, sr., 1600, D-II State Champion
Bella Butler, Oakwood, sr., 3200, D-II State Champion
Delaney Cahill, Oakwood, xx, 3200, D-II (7th) 
Samantha Erbach, Waynesville, jr., 1600, D-II State Runner-Up
Samantha Erbach, Waynesville, jr.,, 800, D-II (4th)
Bella Horne, Oakwood, sr., 100 hurdles, D-II
Oakwood, 1600 relay, D-II: Grace Bauer, Salley Altenburg, Riley Meador and Bella Butler (8th)
Oakwood, 3200 relay, D-II: Annie Neff-isom, Delaney Cahill, Elizabeth Erwin and Katy Butler (5th)
Hayden Sorrell, Valley View, fr., 400, D-II
Valley View, 800 relay, D-II: Kennedy Underwood, Grace Rettic,  Mary Schade and Hayden Sorrell
Valley View, 1600 relay, D-II: Kennedy Underwood, Addy Abner, Hayden Sorrell and Katie Walton (3rd)
Waynesville, 3200 relay, D-II: Emme Greely, Kendal Erbach, Maria Gill and Samantha Erbach (State Champions)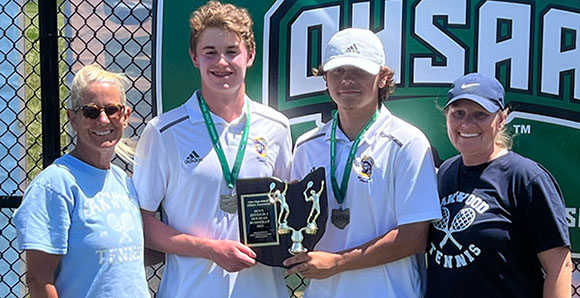 Boys Tennis
Noah Boyce, Oakwood, D-II State Runner-Up (doubles)
Arick Baldwin, Oakwood, D-II State Runner-Up (doubles)
All-Ohio Honorees 2022-2023
 
Football (OPSWA)
Sam Barhorst, Bellbrook, LB, sr., DIII 2T
Jase Bromagen, Valley View, OL, sr., DV 1T 
Jake Clark, Valley View, RB, sr., DV 1T
Tim Davis, Brookville, RB, sr., DV 2T
Gavin DeGroat, Valley View, LB, sr., DV 1T
Bradyn Gibbs, Valley View, LB, sr., DV 3T
Caden Henson, Valley View, QB, jr., DV 2T
Elijah Jackson, Monroe, RB, sr., DIII 1T
Eldon Korber, Bellbrook, DB, sr., DIII HM
Carson Labensky, Bellbrook, P, sr., DIII 2T
Wyatt McPherson, Monroe, LB, sr., DIII 2T
Keegan Mehr, Brookville, DB, jr., DV 3T
Tyler Murray, Franklin, DL, sr., DIII HM
Max Parker, Oakwood, WR, sr., DIII 2T
Brady Rice, Eaton, DL, sr., DIV 3T
Jonathan Ricketts, Carlisle, WR, sr., DIV HM
Tyson Rupp, Monroe, OL, sr., DIII HM
Blaise Sizer, Waynesville, QB, sr., DV 3T 
Bronson Stacy, Brookville, OL, sr., DV 2T
Austin Stidham, Valley View, DB, sr., DV 1T
Sam Vine, Bellbrook, OL, sr., DIII 1T
Matt Wilkerson, Waynesville, DL, sr., DV HM
 
Girls Basketball (OPSWA)
Olivia Baumann, Eaton, sr., DII HM
Katie Berrey, Waynesville, fr., DII HM
Ella Campbell, Madison, sr., DIII HM
Ashley Frantz, Bellbrook, sr., DI HM
Kelley Griffin, Bellbrook, sr., DI SM 
Riley Hodson, Valley View, sr., DII HM
Emma Neff, Oakwood, sr., DII HM 
Taylor Scohy, Bellbrook, jr., DI 3T
Lily Shepherd, Eaton, sr., DII SM
Kylie Wells, Madison, jr., DIII SM
 
Boys Basketball (OPSWA)
Ramy Ahmed, Eaton, jr., DII HM
Kai Cook, Franklin, so., DII HM
Will Maxwell, Oakwood, sr., DII 2T
Blake Lawson, Carlisle, so., DIII HM
Conner Smith, Carlisle, sr., DIII SM
Drew Taylor, Monroe, sr., DI HM
Jace Wood, Brookville, jr., DIII HM
 
Girls Soccer (Coaches)
Cadence Crocker, Franklin, GK, sr., DII 2T
Samantha Erbach, Waynesville, F, jr., DII 1T
Brooklynn Miltenberger, Monroe, D, sr., DII 2T
Emma Neff, Oakwood, M, sr., DII 2T
 
Baseball (Coaches)
Silas Borders, Carlisle, OF, jr., DIII HM
Bennett LaPalm, Bellbrook, P, sr., DII 2T
 
Boys Soccer (Coaches)
Riley Ferrin, Bellbrook, F, so., DII 2T
Jason Purks, Oakwood, M, sr., DII 1T
 
Volleyball (Coaches)
Olivia Baumann, Eaton, OH, sr., DII 2T
 
Softball (Coaches)
Alaina Eldridge, Carlisle, 3B, jr., DIII 1T
SWBL athletes shine at OHSAA State T&F Meet
Oakwood's Bella Butler was a double winner Saturday at the D-II state meet at Ohio State as the Jills finished 6th as a team with 27 points. Waynesville (23) was seventh. Butler won the 1,600- and 3,200-meter titles in 4:49.01 and 10:49.66, respectively. Oakwood's 4x400 relay (Grace Bauer, Salley Altenburg, Riley Meador and Butler) finished eighth in 4:03.05 and Delaney Cahill was seventh in the 3,200 (11:19.62). Waynesville's Samantha Erbach was runner-up in the 1,600 with a time of 4:53.90 and placed fourth in the 800 in 2:14.34. Brookville's Kory Davis finished state runner-up in the 110 hurdles with a time of 14.35, while Brookville's 4x100 relay team of Davis, Alex Kidwell, Tim Davis and Coy Hyre finished eighth (43.03). Valley View's 4x400 relay of Kennedy Underwood, Addy Abner, Hayden Sorrell and Katie Walton finished third in a school record time of 3:58.91. In D-I, Bellbrook's Cary Phillipson finsihed tied for 8th in the pole vault (14-6), while Franklin's Liam Acevedo finished sixth in the 200 (21.56) and eighth in the 100 (10.76). For complete results click the following links (Division I, Division II).

Waynesville girls win D-II 4x800 relay state title
The Waynesville girls 4x800 relay of Emme Greely, Kendal Erbach, Maria Gill and Samantha Erbach won the Division II state title on Friday with a time of 9:17.62. Oakwood's quartet (Annie Neff-isom, Delaney Cahill, Elizabeth Erwin and Katy Butler) finished fifth in 9:24.72.
Baumann leaves Eaton as one of most decorated athletes in school history
EATON — Years from now Olivia Baumann will have time to fully reflect on what she's accomplished thus far in a decorated athletic career. Last Friday, while setting up for her graduation party at the Eaton Country Club, Baumann did get a gentle reminder of her rareness. "I haven't processed it yet, but I was setting up an awards table and I realized how much I've done," Baumann said. "It's been a great ride." When she graduates from Eaton High School on Saturday at Miami's Millett Hall, Baumann will close the book on an extraordinary career. Click here to continue reading Eric Frantz's article at daytondailynews.com. Photos by Kathy Kerler Mowen